November 29th, 2019
Harkness Screens Receives French Industry Award
On Tuesday evening, Harkness Screens [Demospec Manufacturing] received the Trophy of Enterprises in the International category in Orleans. Bringing together many of France's biggest brands, Harkness Screens [Demospec Manufacturing] was recognised in the International category as a result of 65% of factory turnover coming from export.
Based in Amilly in the Loiret department of France, Harkness' French factory was represented by Eric Martin, the General Manager of the facility; "I was extremely proud to receive this award on behalf of Harkness and I could not be prouder of the team here in France."
"We operate with a relatively small team and I am lucky to know each one of them. Each person works extremely hard and as much as the award says 'Demospec Harkness' on the front, it may as well say each of the staff's."
Established in 1953, Demospec originally specialised in the renovation of cinemas. This was largely due to many cinemas being ill-maintained over the course of the German occupation in the Second World War.
Harkness completed the purchase of Demospec in early 2000, a major step forward in the company's global thinking. Since then Harkness has opened state of the art facilities in China, USA and India, helping them claim a major stake in the cinema screen industry. More recently in 2011, Demospec moved from Saint-Loup-des-Vignes to the more functional facility in Amilly.
"The purchase of Demospec was the start of the Harkness we see today. By being geographically closer to several of the larger European markets, as well as the Turkish and North African markets." Mark Ashcroft, Harkness CEO, said.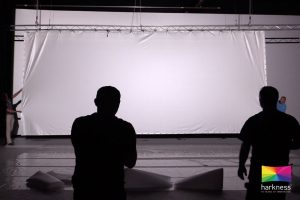 "I have been fortunate enough to visit this facility on several occasions now and it is not a surprise to see that we have been recognised for an industry award in France. Demospec Manufacturing has been a major part of our fabric for nearly 20 years now and we couldn't imagine it any other way."
In September 2019, Harkness began the celebration of their 90th year. Launching a new corporate website as well as an updated logo. Harkness has also recently set new environmental targets across the group with the Amilly site leading the way in moving away from solvent based paint to water based optical coatings.
David Harrison, Chief Technology Officer at Harkness commented; "We continue to see our competitors using solvents and most cinemas detect this because of the strong and unpleasant odour. Moving away from solvents has allowed Harkness to provide higher performing optical surfaces; Perlux Hi-White some 40% more light efficient than its solvent rivals"
With the aim of reducing Harkness' carbon footprint globally, the company has transitioned to a water-based coating for use on screens, as well as recycling any waste PVC in factories by sending it back to the manufacturer for reuse.
Furthermore, Harkness has also significantly reduced the amount of Volatile Organic Compounds (VOC) emissions by 94% over the last four years to ensure that the coating process does not damage the environment in a negative manner.
Two weeks ago, Harkness was also the recipient of a CTC (Cinema Technology Community) Award in London, being recognised as a technology pioneer in the cinema industry. In late September CEO, Mark Ashcroft, was recognised as CEO of the year by CEO Monthly. 
"We are continuing to invest in cinema screen technology and we are excited by our French manufacturing facilities ability to adopt these changes in a highly efficient and consistent manner, it is a testament to Eric and his team," concluded Mark Ashcroft 

---
Harkness Screens
Harkness Screens™ is the world's leading screen technology company, specialising in the design and manufacture of projection screens and supporting technologies for cinema and live events. From single-screen independent theatres to large multiplexes to large format immersive theatre experiences or live events, Harkness supplies thousands of screens every year helping provide outstanding presentation experiences to audiences around the world.
With global reach, Harkness is regarded as the world leader in cinema and has screens in more cinemas worldwide than any other manufacturer. With its industry leading 2D and 3D screen brands (Perlux HiWhite, Clarus XC and Spectral) along with an innovative range of presentation monitoring tools, digital surveying services and suite of cinema design and specification apps, Harkness continues to lead the way in screen technology for cinema.  
Founded in 1929, Harkness has manufacturing facilities in the USA, UK, France, India and China and combines unrivalled experience with the latest technology and production methods to provide innovative solutions to the company's key markets.  For more information, visit the Harkness Screens web page at www.harkness-screens.com.