September 12th, 2019
From Glasgow to Hollywood via Elstree Studios – Harkness Screens at 90
1929 was truly the year of cinematic innovation. It was the year that Walt Disney Productions was formed, bringing about the first occasion that Mickey Mouse spoke in one of his shorts, saying 'hot dogs' and being voiced by Walt Disney himself.
It was also the year of the first Academy Awards, seeing the first and final silent movie receiving the Oscar for Best Picture, Wings (1927). Honouring films from the previous two years, the Award winners were announced on the back page of the organisations bulletin three months before the awards dinner was due to take place.
The Eastman Kodak Company capitalised on a swell of public demand to experience films with sound. Introducing their first motion picture film, 16mm, it was designed especially for making motion pictures with sound.
However, 1929 was the start of a separate journey. Far flung from the glamour of Hollywood, Harkness Screens was starting its journey to become the leader of cinema screen technology.
Our Past
A master draper, Andrew Harkness and his son Tom, began manufacturing screens in 1929, working from the lots of films studios in Borehamwood. It was Andrew's knowledge as a draper that immediately set the fledgling company aside from its competitors. Having learnt the trade from the age of 15, Andrew Harkness developed both woven and washable woven screens that were of a higher quality than his business rivals.
Unfortunately, just two years into the venture, Andrew Harkness passed away in Surrey. Leaving behind a wife and two children, the Scotsman left his family £6591, which in today's money would be about £450,000. Not bad for a business that was two years old.
At the age of 20, Andrew's only son would be taking the reigns of the cinema screen business. Tom was the next Harkness to revolutionise the screen industry. In the early 1940's, Tom identified PVC as a suitable alternative to the woven fabric that the company was pioneering up to that point.
Whilst other manufacturers had also decided that PVC was the way forward, none of Harkness' competitors had managed to find a way to join the plastic without leaving noticeable markings on the seams and this is where Harkness Screens found the upper hand.
Welding the plastic together using the now patented Tearseal technique, this new method produced a flat seam, helping with the screens becoming a huge success. By the 1950's the technology had progressed even further. One key addition was by creating small perforations on the screens, allowing for speakers to be mounted in the rear of the screen, creating a new cinema experience.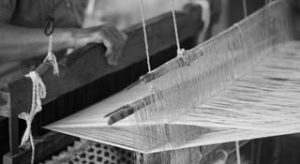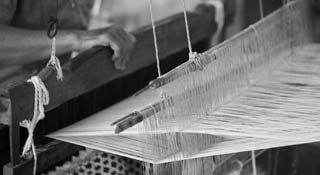 The 1950s brought about another key change in Harkness' journey too. Harkness was bought by the Rank Organisation, one of the biggest cinema companies in the world. Rank purchased several other companies around this time and in 1960 put them under the banner of Rank Audio Visual. As a result, Harkness was incorporated alongside Pathe and Odeon at the Gate Studios on the lots of Elstree Studios.
Harkness continued to progress under new ownership and began to gain autonomy on the growing exhibit industry. Exhibitors required larger screens, but often could not display their product effectively due to screens not having the technology to have sufficient light on the screen without decreasing image quality. It was solving this problem that put Harkness ahead of all their competitors.
Developing their first ever coated gain screen, the Perlux, this screen provided a brighter and more vivid presentation experience. During the multiplex boom of the mid-1990s Harkness had already predicted the future demand for 3D cinema. Investing heavily in the research and development of more coated screens, this resulted in the world's leading polarised silver screen, the Spectral.
In late 1999 Harkness made the acquisition of a European competitor and also created manufacturing facilities in the USA, China and India to keep up with the increasing demand for their products.
Our Present
To this day, Harkness have continued to be at the forefront of cinema screen technology. With manufacturing facilities in the USA, China and India, Harkness currently employ over 150 people across nine locations.
In 2013 Harkness introduced the Digital Screen Modeller app that made it simpler for engineers and architects to optimise a location for projection. More recently, Harkness has announced that they will be trialling an online store where events and ProAV customers can purchase screens.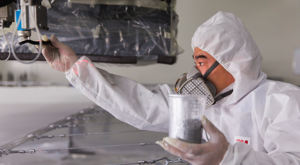 All this represents Harkness' continuing commitment to the innovation of cinema screen technology. Currently developing laser projection technology, something that Harkness believe will be the next revolution in cinema, Harkness are again displaying the ingenuity that made them an industry leader.
Harkness is also represented at major cinema conventions around the world. Exhibiting at events like CinemaCon and ShowEast, Harkness' screens will often be on the main stage where the likes of Seth Rogen and Dwayne 'The Rock' Johnson have presented some of their upcoming projects.
CEO, Mark Ashcroft, is regularly in attendance at these conventions and in an interview with journalist Chris Heal, Ashcroft said how he finds the conventions educational;
"I think, as ever, when you travel and meet customers, you get a whole new perception on what is bothering them, what's exciting them, where they see the opportunities and where they see the threats. That differs from country to country. I have been able to take in the US, China, France, Spain, the UK and Ireland and it has been an interesting set of customer visits."
Our Birthday
As part of Harkness Screens' 90th birthday celebrations, Harkness will be marking this landmark occasion in several ways. Perhaps the most noticeable change will be the new technicolour logo that will be representing the vast array of colours that Harkness has brought cinemagoers for the majority of their history.
As part of Harkness' aim to be the most approachable company in the cinema industry, there will be a new and more user-friendly micro website launched, where regular and unique content will be posted.
Furthermore, Harkness' social media accounts will be getting a make-over. Social media graphics will make Harkness more visible on Twitter, Facebook and Instagram, allowing more potential customers to access the website.
"I can't say enough how much of an honour it is to be involved with Harkness during its 90th birthday celebrations." Mark Ashcroft, CEO of Harkness Screens, said, "All that we have planned for this special anniversary is extremely exciting and will definitely help take Harkness forward in the coming years as we approach our centenary.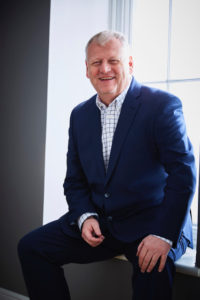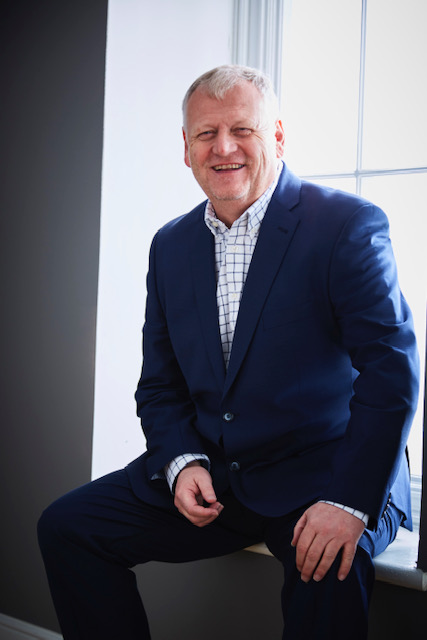 "Small refinements like the new logo are important. That logo is a constant representation to people that see it, of the vibrant colours that we have been able to bring cinemagoers for a large part of our history."
Harkness will also be doing some branded memorabilia as part of their birthday celebrations. This will include limited edition water bottles, t-shirts, a company timeline and a table-top hardback book that will catalogue the past 90 years of cinema, as well as, Harkness Screens key innovations.
Harkness staff members will receive a brand book, in which key landmarks in cinema will be listed, as well as informing those in possession about the company's core values.
Our Future
"Our 90th birthday is by no means the sign of us slowing down. We will be looking back to our founders and honouring them in a way that is appropriate, but we will mainly be looking forward and saying what we believe can be achieved. Our continued research into the use of laser technology is at an exciting stage and we are aiming to continue being pioneers in our field." Mark Ashcroft said.
"Harkness has led the industry for most of its existence and I don't see any reason that will stop any time soon." Mark Ashcroft said, "For every event, we have the perfect screen for it. That is the reason that we can be found at any major cinema convention in the world.
"We have a commitment to continue enriching the visual cinematic experience and our partners like that about us. Harkness really is a world leader in its field and we will only continue to get better and develop screen technologies that Andrew and Tom Harkness would scarcely have imagined in 1929."
Chief Technology Officer, David Harrison, believes that Harkness will stay at the forefront of cinema screen technology for some time to come;
"Harkness has historically been ahead of trend with the innovations that we have made. We were ahead of the curve when the 3D boom was happening and we are also preparing for what we think is going to be the next 'big thing' in cinema.
"Laser projection is going to change how cinemagoers experience the cinema, with a much higher screen resolution, what people see on the silver screen will be even clearer and we're well on the way to delivering this new set of products.
"It is that at the same time we are developing a screen that will bring more clarity, Harkness is putting itself further in the public eye. We already have a strong reputation within the cinema industry and taking that to the general public will only benefit us further. Harkness is going places, that much is clear." Harrison said.
Thank You

—————————————————————————————————————————————–
Harkness Screens
Harkness Screens™ is the world's leading screen technology company, specialising in the design and manufacture of projection screens and supporting technologies for cinema and live events. From single-screen independent theatres to large multiplexes to large format immersive theatre experiences or live events, Harkness supplies thousands of screens every year helping provide outstanding presentation experiences to audiences around the world.
With global reach, Harkness is regarded as the world leader in cinema and has screens in more cinemas worldwide than any other manufacturer. With its industry leading 2D and 3D screen brands (Perlux HiWhite, Clarus XC and Spectral) along with an innovative range of presentation monitoring tools, digital surveying services and suite of cinema design and specification apps, Harkness continues to lead the way in screen technology for cinema.  
Founded in 1929, Harkness has manufacturing facilities in the USA, UK, France, India and China and combines unrivalled experience with the latest technology and production methods to provide innovative solutions to the company's key markets.  For more information, visit the Harkness Screens web page at www.harkness-screens.com.
About the writer
Joe Harvey is a freelance journalist who has recently graduated from the University of Derby. Working for several companies across the world, Harvey has built up a portfolio of work in sport and in PR. Having been hired to provide content for Harkness Screens' 90th birthday celebrations, Harvey is looking forward to this challenge.
You can contact Joe by emailing; joeharvey340@gmail.com, or by following him on Twitter; @joeharvey34