April 22nd, 2020
Harkness Screens providing Indian keyworkers with protective equipment
Harkness Screens are providing visors, aprons and medical curtains to Indian keyworkers
Protective equipment has been supplied to the Indian Navy, Bangalore Police and several local hospitals
Harkness Screens are offering protective equipment in Asia, Europe and North America
Last week, Harkness Screens' Bangalore completed its first major order to protect key Indian workers during the COVID-19 pandemic. This will see Harkness provide the Indian Navy, Bangalore Police, the Ministry of Health and various local hospitals with medical curtains, aprons and face shields.
Being produced in Harkness Screens Bangalore factory, this is the first major order of Harkness' innovations that have been under development since the onset of the COVID-19 pandemic that has taken over the world in recent months.
"At Harkness Screens we are known for providing high quality products and I believe that this reputation has allowed the likes of the Indian Navy, Bangalore Police and several hospitals to approach us," Mark Ashcroft, CEO of Harkness Screens, said, "I know that our team over in India are extremely proud to be supplying their country's doctors, medical staff and key workers with potentially life-saving equipment.
"I said last week how excited I was to be these innovations and I know that Preetham Daniel and the rest of our staff will provide some fantastic equipment. India has a population of over one billion people, so we are proud to be part of such a large humanitarian effort in a country we feel so proud to have a base in."
Operating in Bangalore, a city often referred to as the Silicon Valley of India. Alongside so many of India's most prominent IT companies, Harkness Screens began operations in India in 2013, quickly becoming a market favourite.
Last week, Harkness Screens announced that they would be launching a whole new range of innovations to help healthcare, social care and the other key workers that will be most exposed to COVID-19.
"The India Harkness team is very excited to be of help in the global fight against COVID-19," Preetham Daniel, SVP Asia, said, "It is well known that India has a high population and it is fantastic to see the whole country and whole world come together for this fight.
"Over the years that Harkness has developed a reputation for coming up with innovations and adapting within the cinema industry. Adapting to different situations that have occurred throughout history is what we do, and I believe that this is another example of that."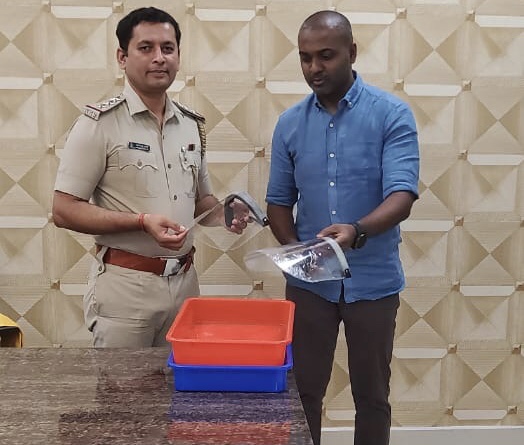 Harkness Screens began in earnest on the lots of the Borehamwood Film Studios in 1929, Harkness quickly became an industry favourite, due to founder, Andrew Harkness', knowledge of fabrics as a draper.
It was Andrew's son, Tom, that pioneered the use of PVC. Since the material was first used in the 1940s, nearly 80 years has passed. It is that material that will be used to provide those on the front line in the treatment, identification and development of vaccines for COVID-19.
With temporary hospital and care facilities being set up around the world to care for those effected by the COVID-19 pandemic, Harkness Screens hopes to help efforts against the disease.
"When we first had conversations about helping with the efforts to overcome this unprecedented time in world history, this is exactly the response that we were hoping for," Ashcroft said, "The market in India is well known for having an emphasis on high quality and being asking us to produce equipment for these government bodies is another example of that.
"There is a huge emphasis in society at the minute on being safe, I am signing off all my emails with that message and that is something that we want for everyone in society, particularly those directly exposed to COVID-19 every day."
Aprons and medical curtains manufactured by Harkness Screens will be made from the PVC that has allowed the company to become an industry leader in cinema screen manufacturing. Medical visors, like the ones pictured, are made using 3D printing technology.

---
Harkness Screens
Harkness Screens™ is the world's leading screen technology company, specialising in the design and manufacture of projection screens and supporting technologies for cinema and live events. From single-screen independent theatres to large multiplexes to large format immersive theatre experiences or live events, Harkness supplies thousands of screens every year helping provide outstanding presentation experiences to audiences around the world.
With global reach, Harkness is regarded as the world leader in cinema and has screens in more cinemas worldwide than any other manufacturer. With its industry leading 2D and 3D screen brands (Perlux HiWhite, Clarus XC and Spectral) along with an innovative range of presentation monitoring tools, digital surveying services and suite of cinema design and specification apps, Harkness continues to lead the way in screen technology for cinema.  
Founded in 1929, Harkness has manufacturing facilities in the USA, UK, France, India and China and combines unrivalled experience with the latest technology and production methods to provide innovative solutions to the company's key markets.  For more information, visit the Harkness Screens web page at www.harkness-screens.com.
You can follow Harkness Screens on Twitter, Instagram, Facebook and LinkedIn.