October 10th, 2019
Harkness on the Road – ExpoCine19
The start of October saw yet another important event take place in the cinema industries calendar. ExpoCine is the biggest cinema exhibition in the Latin American market and Harkness Screens was present at the event as a major sponsor and was represented by Senior Vice President (SVP) for New Business, Tony Dilley.
Taking place at the Frei Caneca Convention Centre in Sao Paulo, Brasil, ExpoCine took place for four days over the first week of the month. Harkness were one of the principal sponsors for the event alongside the likes of Dolby, Christie, GDC, Cinionic and NEC.
Harkness at ExpoCine
Harkness could be seen everywhere at this event. One of the major sponsors for the exhibition, the Harkness logo adorned the lanyard's that were handed out with the translation radios for those that did not speak Brazil's native Portuguese.
Sending over one of the company's most experienced faces, Harkness were represented by the SVP for New Business, Tony Dilley. Having been with Harkness for 23 years now, Tony regularly attends industry events across the world and will be making the journey to Miami this weekend for Show East.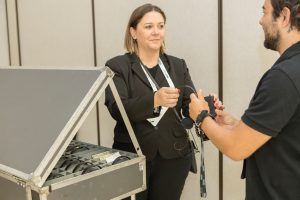 "This was my fourth time at ExpoCine and it was great to see that numbers were up again." Tony said, "As ever there were a lot of very informative panels and it was really great to see the industry growing in Brazil and other parts of Latin America year on year.
"It has also been interesting to see the likes of Cinepolis, Cinemark and Cinemex go from strength to strength over the years. Added to this, the interest of Disney, Paramount, Universal and the other major distributors, at the event has been incredible. Also, to see all the previews subtitled in Portuguese was just fantastic and everyone seemed really intrigued by some of the upcoming releases."
Tony also sat on one of the major panels at the exhibition. Titled The Future of Projection: Laser, LED or Xênon? the panel discussed where their companies believed that the future of projection lay. Largely discussing laser projection technology, an area where Harkness Screens R&D is currently working on to improve product performance.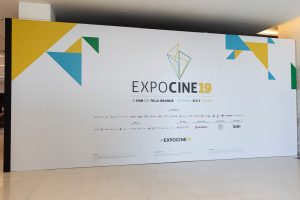 "I really enjoy doing these panels as they give me an opportunity to display the expertise that Harkness have in the screen industry. I offered some thoughts about the important part that screen's play in projection." Tony said.
"Whilst things like the right screen, the right projector and the right amount of power isn't something that a person outside of the industry would think of, it is certainly something that people at these exhibitions are interested in and want to hear about."
Sitting alongside Dan Huerta Cinionic, Luis Gonzaga de Luca President of Cinepolis Brazil, Susie Beiersdorf Christie, Reiener Doetzkies NEC and moderated by Celluloid Junkie's J. Sperling Reich, the panel was a huge success in Sao Paulo and offered a unique insight into what the future of cinema could look like.
ExpoCine 2019 was also a final outing for the company's old logo. Changed in mid-September as part of the 90th birthday celebrations, the old logo took centre stage alongside other sponsors on all of the exhibitions branding and on the translation radios that were given to support non Portuguese speakers present.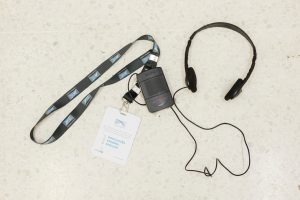 "As ever, there is a tremendous amount of pride seeing the Harkness logo at these kinds of events. I have been doing this job for some 23 years now and that emotion never seems to change." Tony said, "I suppose in a way, I will be sad to see the old logo go as it was a big part of the company for many years.
"With that being said, when I saw the new logo I was similarly excited. It (the new Harkness Screens logo) is just a bit more visible I would say. At these events, it is all about being seen and as a cinema screen manufacturer and cinema screen development company, it makes sense to make yourself seen."
Once again a Clarus XC170 was used at ExpoCine. Allowing for a dramatic improved cinema presentation in both 2D and 3D, the Clarus was developed as a result of significant research by the Harkness Research and Development team to create a more immersive cinematic experience.
Upcoming Events
Tony's next stop on his regular journey around the globe will be ShowEast in Miami. Taking place from the 13th of October until the 17th, known as the 'film convention' with exclusive screenings from both the major Hollywood and independent studios showing upcoming projects set to hit the silver screen in the coming months.
"What a place to debut the new logo – the MENA Cinema Show in Dubai following on from ShowEast, I'm looking forward to getting some feedback on the new logo in Dubai, as well as representing Harkness at these trade shows." Tony finished.
Harkness Screens will also be attending Kinorinok in Moscow, CameraImage in Poland, Haugesund Film Festival in Norway, the Odessa Film Festival in Ukraine and will also be attending key events CinemaCon in Las Vegas, CineEurope, the Cannes International Film Festival, CineAsia and the Beijing International Radio, TV and Film Exhibition, all in the coming months.
(Images courtesy of ExpoCine19)

---
Harkness Screens
Harkness Screens™ is the world's leading screen technology company, specialising in the design and manufacture of projection screens and supporting technologies for cinema and live events. From single-screen independent theatres to large multiplexes to large format immersive theatre experiences or live events, Harkness supplies thousands of screens every year helping provide outstanding presentation experiences to audiences around the world.
With global reach, Harkness is regarded as the world leader in cinema and has screens in more cinemas worldwide than any other manufacturer. With its industry leading 2D and 3D screen brands (Perlux HiWhite, Clarus XC and Spectral) along with an innovative range of presentation monitoring tools, digital surveying services and suite of cinema design and specification apps, Harkness continues to lead the way in screen technology for cinema.  
Founded in 1929, Harkness has manufacturing facilities in the USA, UK, France, India and China and combines unrivalled experience with the latest technology and production methods to provide innovative solutions to the company's key markets.  For more information, visit the Harkness Screens web page at www.harkness.co.
About the writer
Joe Harvey is a freelance journalist who has recently graduated from the University of Derby. Working for several companies across the world, Harvey has built up a portfolio of work in sport and in PR. Having been hired to provide content for Harkness Screens' 90th birthday celebrations, Harvey is looking forward to this challenge.
You can contact Joe by emailing; joeharvey340@gmail.com, or by following him on Twitter; @joeharvey34