June 6th, 2020
Cinema Leadership in a new world
Having put pen to paper last month to discuss his interactions with Covid-19, Harkness Screens CEO, Mark Ashcroft has done so once more. This time discussing the elements of Harkness Screens that he believes continues to make the company an industry leader.
Industry Leaders
Over the seven years that I have been with Harkness, I have seen us demonstrate our standing in the cinema industry through  product consistency, products performance and  products quality. I have seen Harkness move away from volatile organic compounds in the production of screens to water-based coatings and we have led that change in my opinion.
The ability to meet stringent fire standards in building regulations is another area where Harkness have led and continue to lead. I think that, in terms of two or three critical performance measurements; gain, total reflectance and extinction ratio, Harkness has developed technology that allows the consistency and the repeat ability of those performance measures. Also we have gone out and developed our own mobile hand-held testing for those criteria and we can do that, not only in the factory or in the laboratory, but we can take that into any cinema in the world, to anybody's screen and we can independently measure those things.
We set the Technology Group up during the pandemic, but it had always been our intention to utilise a so-called Cinema Technology Group and that had started back in September 2019. One of the important things that group was able to do was, they were able to use our Qalif 144-point measuring system, along with our gain meters.
In the period from October 2019 to February this year,  we had started to visit a number of cinemas around the world, taking measurements on various screens. Those measurements really reinforced our belief that Harkness are able to provide an exact gain level for a screen. It is somewhat disappointing to report that we measured a number of competitors screens that had claimed to have a 1.7, 1.4, 1.2 gain and when we have measured them, they have been below 1.
That can happen to anybody, but in the current climate, the consistency of performance and quality is something that is going to be really important and we are going to double our efforts over the next days and weeks to ensure that every screen we ship has got a longevity to it for cinemas, giving them a return on investment because we know liquidity and cashflows are going to be really important. The gain variation we measured on our competitors screens is a concern, as it can adversely impact presentation, it can cause energy costs to soar; not what is required as we try to re-open cinemas.
Re-opening demands that we create a safe and welcoming environment; that this environment promotes movies with the best possible presentation. As an industry we will all need to be cautious on costs and liquidity; screens that do not match their specifications can lead to increased operating costs.
A screen with a lower gain than specified might have one accidental benefit and that will be reduced laser speckle.
There are far too many average cinema going experiences in the world and one of the things that we have been adamant about in the last seven years, is that to enhance that experience in a cinema,  you do that by the quality of the screen, quality of the projectors and the quality of the sound.
Today we are able to do different things with the screen surface itself, by so doing we can upgrade it's optical capability. We can dial-in and change those capabilities, which is something that I would suggest Harkness has taken a giant leap forward in and that should be to everybody's advantage.
The optical capabilities of a cinema screen were independently exposed in 2012 when RealD explained a concept of Total Integrated Scatter with the launch of their Precision White Technology. That revolutionised how the industry measured the performance of a screen and has guided Harkness in the development of new screen technology.
Heavy coatings have been used for years to hide seams and allow folded 3D screens to be produced; Harkness have moved in the opposite direction with thin film coatings. That range of thin film coatings has been accelerated in the last 4 months as interfacial tension technology has allowed us to build up these microscopic layers. That provides a new generation of optical performance in folded and rolled screens.
During January this year we were able to present these new technologies to major cinema operators in the USA, Europe and China. Unfortunately, the current pandemic prevented these products being launched at Cinemacon.
Creating PPE
I think Harkness has got a rich tradition, over 90 years, of being at the forefront of cinema screen development and it has always been my aim to keep as a key element of Harkness' strategy. When we sat down and did the 162 day journal, you could see that my association with Covid-19 was early December, so in terms of planning for this emergency, we were able to do that. I would say that such an emergency plan needs flexibility and constant monitoring. It has also tested our mapping of contacts within the cinema circuits; many staff have been furloughed.
Early on, what was clear to me is that our ability to manufacture with PVC really lent itself to create some forms of PPE. My initial request of our R&D team was to take the PVC that we used for cinema screens and could we make masks and aprons and why did I say masks and aprons? Masks; because I am aware, from my regular visits to Asia, how important wearing a mask is in Asia. Aprons came from seeing desperate scenes in Wuhan and Bergamo in Italy where heath care professionals, to me, seemed to be taking bin liners and using those. We could create something from PVC, that we have on the shelves, that we are skilled at handling, which could help those on the frontline. That's really where our proactiveness came from.
It was always top of mind that cinemas would need help in re-opening and that screens would not be their most pressing requirement; what could PVC be used for to help in that reopening. Straightaway I knew that distancing barriers and clear counter shields would be the most appropriate. The key was a lightweight material, very flexible in size and shape with the massive benefit over Perspex and Plexiglass; the cost.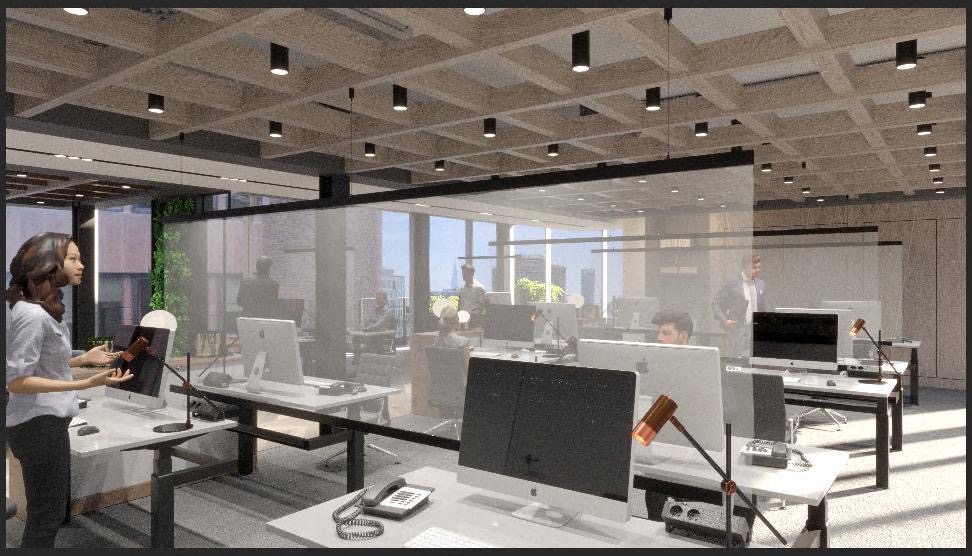 We received encouragement from NATO and UKCA; however, this didn't materialise as quickly as we would have anticipated but hardly surprising given the magnitude of the issues facing cinema. Subsequently, we have navigated the supply chain that manages such products on behalf of the cinemas.
As the director of any company, you also have the fiduciary responsibilities to employees, to creditors, to shareholders, to banks, to suppliers, to customers. So, our employees are, to coin a phrase, the lifeblood of the business, therefore it is important that we are able to keep those folk motivated and employed.
The nature of what we do means that people's experience and knowhow is critical to our production processes. We need to keep them actively engaged, we need to allow them to practice the art of handling PVC and what we have now seen with barrier screens, as an example, is that they have been able to keep that skill practiced on a regular basis.
I guess the other example would be in India, we have been able to keep the team together having recently invested in new processes and new technology and I think that in the short and mid-term that will have an enormous benefit for our customers globally.
Harkness Protect
As prototypes of these product extensions have come online we have attracted the attention of sectors outside of cinema. These sectors have included Shopfitting, Facilities & Estate Management, Fastfood, Breweries, Pubs and Restaurants. Exposure to these different sectors has been encouraging and one such discussion led to an onsite deployment.
Barge East, a bar and restaurant run by an incredibly talented group of blokes, a group of people that have set up in one of the most vibrant and competitive cities in the world, London. To become number one on Tripadvisor for London as a restaurant is massively impressive; that itself talks to the passion and the drive that the team at Barge East have.
When coronavirus hit, they started a staying afloat campaign that was really cleverly done and allowed them to raise over £50,000 and a number of the city newspapers picked up on their idea and they certainly are not taking Covid-19 lying down.
We obviously needed to show our ideas in practice, and we got the opportunity to go send some team members and spend time there, doing a socially distanced photoshoot at Barge East, which was really well done.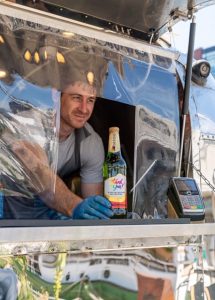 All the guys got involved, they were wearing the aprons, they had the floating barriers and the feedback we have had from the guys there has been excellent. Of course, what these guys do, is they use the power of social media to get the message out there and it has really been fun for me to see the Harkness product range reach a whole new demographic when Barge East mentioned us on social media.
Online ordering in the cinema screen world is quite unusual because each screen is tailormade. What we had found was that there was a growing interest in being able to order events screens online and we had created an online system called EventProjectionScreens.com which was servicing in the UK and Europe.
That online ordering system allowed us to add aprons and barrier screens quite easily for our UK and European customers. In the United States that was something we weren't able to do, so we look to go live this week with www.HarknessProtect.com, specifically for US companies and we desperately hope that it is the US cinema sector that takes advantage of it.
There is 90 years of our experience that has gone into those products to allow for privacy screens, counter guards, sneeze guards, barrier shields, you name it. That's something that adds to the point earlier about Barge East, really using the power of online ordering and social media to get this new message out there.

---
Harkness Screens
Harkness Screens™ is the world's leading screen technology company, specialising in the design and manufacture of projection screens and supporting technologies for cinema and live events. From single-screen independent theatres to large multiplexes to large format immersive theatre experiences or live events, Harkness supplies thousands of screens every year helping provide outstanding presentation experiences to audiences around the world.
With global reach, Harkness is regarded as the world leader in cinema and has screens in more cinemas worldwide than any other manufacturer. With its industry leading 2D and 3D screen brands (Perlux HiWhite, Clarus XC and Spectral) along with an innovative range of presentation monitoring tools, digital surveying services and suite of cinema design and specification apps, Harkness continues to lead the way in screen technology for cinema.  
Founded in 1929, Harkness has manufacturing facilities in the USA, UK, France, India and China and combines unrivalled experience with the latest technology and production methods to provide innovative solutions to the company's key markets.  For more information, visit the Harkness Screens web page at www.harkness-screens.com.
You can follow Harkness Screens on Twitter, Instagram, Facebook and LinkedIn.
Email Media@harkness-screens.com for any media enquiries.